Numerous Solutions to Lock Problems
03/31/2014
Back To Blog
The increased need to keep properties secure and prevent intrusions has brought radical changes in the lock industry. Today, consumers can choose among a plethora of security door locks and find amazing security systems for all entry points of the house. The question is what use we do of these products or of locksmith services and whether we are capable to distinguish among problems and decide on the best possible solutions!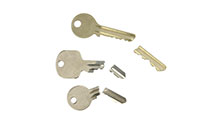 5 ways to keep the property secure
Lock and key problems are surely unavoidable. Their daily use and the effects of external factors will result to issues, which will put our homes at high risk if they are not treated accordingly. The rapid development of the lock industry is not accidental. It is actually the result of people's need to confront crime. Property crime rates in regard to car theft and office or home intrusions are still high and that's why new systems are required as well as new lock installation.
The prudency is to choose to follow the right path in order to solve your lock problem efficiently. The good news is that there is at least one solution to each problem, so take your pick.
Lock replacement is important when the locks are old, the mechanism is broken or you want to invest in the reinforcement of the property's security. Old locks operated with old keys will eventually give you trouble and it's best to replace them before they stop securing your home.
If you want to avoid a house lockout, make duplicates of the key and ensure the condition of the locks is great.
If you move to a new apartment, office or house, remember the value of lock rekey. It will give you confidence to know that your key is new and no one else has it.
When the lock works fine but the key is distorted, you will need key replacement. Soon or later, you will find out that the key won't fit in the lock, will stick or won't rotate and you will be locked out or it won't be possible to lock the door.
Remember that lock repair can take care of damaged tumblers, loose strike plates and other minor problems, which though can make a huge difference to your security.